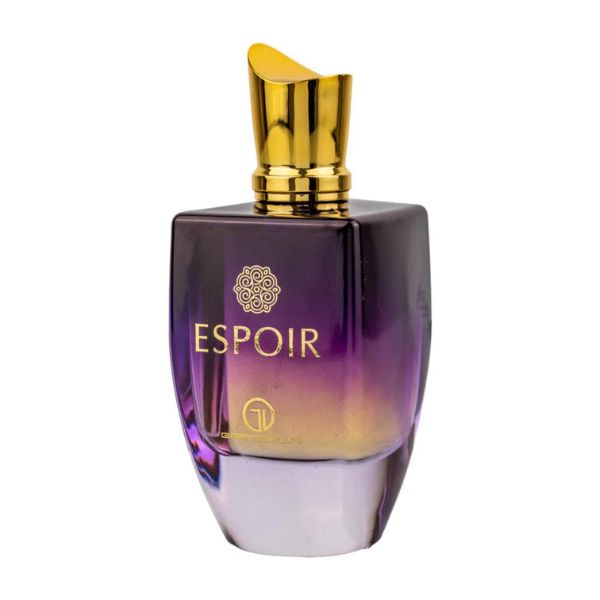 Sale price
43.00 лв
Regular price
69.00 лв
Tax included.
Espoir- Grandeur - Eau de parfum - 100ml
Espoir, a women's perfume that embodies the spirit of hope and beauty, is an enchanting olfactory masterpiece designed to evoke a sense of timeless elegance. This fragrance unfolds like a symphony of beauty, each note contributing to a composition that mirrors the captivating essence of femininity.

The perfume opens with the citrusy brightness of bergamot, creating a lively and refreshing introduction that sets the stage for the beauty that follows. Pear adds a succulent and sweet twist, infusing the composition with a touch of lusciousness.

As the fragrance evolves, the delicate and floral notes of jasmine take center stage, weaving through the composition with a layer of timeless femininity and grace. Ambergris contributes a warm and inviting aura, creating a captivating and lasting impression.

Musk provides a clean and velvety essence, adding to the overall sophistication, while vanilla introduces a sweet and comforting warmth. Espoir is a celebration of beauty, a sensory journey through layers of bergamot, pear, jasmine, ambergris, musk, and vanilla. With each spritz, this perfume invites you to embrace the beauty and allure of its composition, leaving an indelible mark of timeless elegance.


Top Notes: Bergamot
Middle Notes: Pear,Jasmine
Base Notes: Ambergris, Musk, Vanilla
Expected deliveryDec 01 - Dec 05

Free delivery: and all orders over BGN 100.
Espoir
Sale price
43.00 лв
Regular price
69.00 лв