Sale price
43.00 лв
Regular price
69.00 лв
Tax included.
Flare - Grandeur - Eau de parfum - 100ml
Flare, a captivating women's perfume, is an aromatic symphony that ignites the senses with its radiant and alluring composition. This olfactory masterpiece unfolds like a luminous display of fragrance, each note contributing to a composition that mirrors the vibrant and spirited essence of its name.

The perfume opens with the zesty brightness of bergamot, creating a lively and refreshing introduction that sets the stage for the dynamic beauty that follows. The succulent sweetness of mango adds a tropical and exotic twist, infusing the composition with a touch of luscious allure.

As the fragrance evolves, the floral notes of jasmine and ylang-ylang take center stage, weaving through the composition with a layer of timeless femininity and grace. These blossoms contribute to the overall floral opulence of Flare, creating an aroma that is both sophisticated and enticing.

Sandalwood provides a warm and creamy foundation, enhancing the fragrance with a touch of earthy richness. Vanilla adds a sweet and comforting essence, completing the symphony with a note of indulgent warmth. Flare is a celebration of femininity, a sensory journey through layers of bergamot, mango, jasmine, ylang-ylang, sandalwood, and vanilla. With each spritz, this perfume invites you to embrace the radiant and spirited character it exudes, leaving an indelible mark of luminous allure.


Top Notes: Bergamot
Middle Notes: Mango, Jasmine
Base Notes: Ylang Ylang, Sandalwood, Vanilla
Expected deliveryDec 01 - Dec 05

Free delivery: and all orders over BGN 100.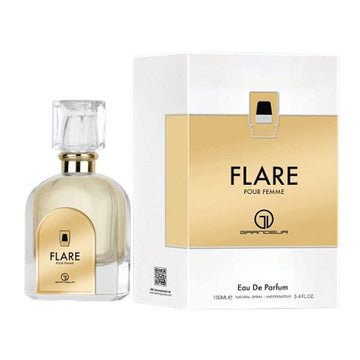 Flare
Sale price
43.00 лв
Regular price
69.00 лв