Sale price
64.00 лв
Regular price
99.00 лв
Tax included.
Kasuf Dhahabi- Al Absar - Eau de parfum - 100ml

Immerse yourself in the golden allure of Kasuf Dhahabi, a fragrance that echoes the radiant beauty of Dubai. The journey begins with the sweet blossoms of orange and jasmine, reminiscent of the fragrant gardens that grace the city. As the scent unfolds, the rich and velvety notes of black currant add a touch of mystery, weaving a tale of opulence and sophistication. The heart of Kasuf Dhahabi is embraced by the warm caress of tonka bean, creating an essence that resonates with the vibrant energy of Dubai's bustling streets. Musk and vanilla form the base notes, leaving a lingering trail that captures the essence of Arabian nights. 'Kasuf Dhahabi' is a tribute to the golden sands and glittering skylines, a fragrance that encapsulates the spirit of Dubai's luxurious charm. Let each note transport you to the heart of the city, where tradition meets modernity, and every scent tells a tale of timeless elegance and radiant beauty.
Top notes: Orange blossom
Middle notes: Jasmin, Black currant
Base notes: Tonka bean, Musk, Vanilla
Expected deliveryDec 01 - Dec 05

Free delivery: and all orders over BGN 100.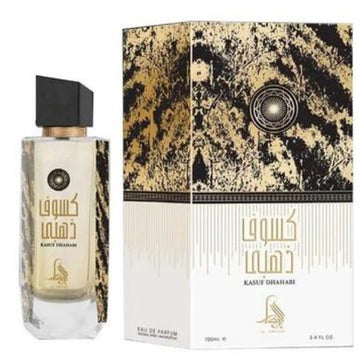 Kasuf dhahabi
Sale price
64.00 лв
Regular price
99.00 лв