Sale price
64.00 лв
Regular price
99.00 лв
Tax included.
Nimr- Al Absar - Eau de parfum - 100ml

Nimr, a fragrance that embodies the essence of the Orient in every captivating note. The journey begins with the mystical allure of incense, creating a fragrant trail that leads to the warmth of saffron and the spice of cardamom. As the heart unfolds, the enigmatic blend of white musk and musk intertwines, casting a spell of elegance. The fragrance reaches its crescendo with the rich and hypnotic oud, a scent that echoes the timeless traditions of the East. Nimr is a harmonious symphony, a sensory masterpiece that invites you to experience the opulence and mystique of oriental allure. Let each note envelop you in a tale of luxury and intrigue, as you embark on a fragrant journey through the exotic landscapes of the East.
Top notes: Incense
Middle notes: Saffron, White musk
Base notes: Musk, Cardamom, Oud
Expected deliveryDec 01 - Dec 05

Free delivery: and all orders over BGN 100.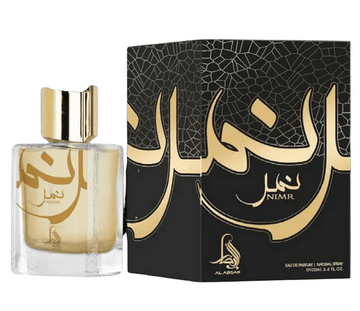 Nimr
Sale price
64.00 лв
Regular price
99.00 лв